Hello Stamplings!
I figured out where my Mojo has been ... its been hiding behind the clouds! I think I'm one of those people who gets a little down when the skies are gray day after day because when the sun comes back out, man, I'm a new woman! Is that a "thing," or is everyone like that?
Mr. Sun was only out for the morning, but I grabbed it and as a result of my burst of engerny, I have a Threefer! And a flavor to ask you at the end, so here we go!
Onefer
I feel a little silly admitting this, but this was my first time doing a partial die cut! I've seen the technique around for ages, but in my head I always made it more complicated than it is. Silly. It's so easy!
I Washi-taped my Spellbinder heart dies and ran the card through to cut only half the hearts. Then I taped the dies back over the hearts and masked everything but the hearts. Inside the dies I sprinkled and spritzed Lindy Magicals until I was happy with it. Then I had Hammy run around in some watered down Delicata gold ink and then jump around the hearts to gild them. So pretty. And the hearts look good, too, all shimmery.
A sheet of golden heart vellum paper and a gold embossed sediment from GKW and we're on to the next one. (Sorry about the gray tones of the photo where it should be bright white. The camera was having all kinds of exposure issues with the sun hitting the vellum.)
Challenges
Twofer
This turned out so cool. I don't often say it, but I felt like The Bomb Dot Com with this design! 😃 My NBUS stencil is from Neat & Tangled. I'm sorry there is no name on the package. I blended broken china (I didn't use my grandmother's pieces) and some wilted violets over the stencil.
Then I cut a PTI tag out of the center and again out of four layers of aqua card stock before replacing all the tags in the center. I added a creative twine bow by taping the two different colors of twine to the back of the stack of tags. I tied them in a knot and then brought the two ends through to the front where I tied another knot and then tied the bow. The peace sediment is from Winnie & Walter. Shazambam!
Challenges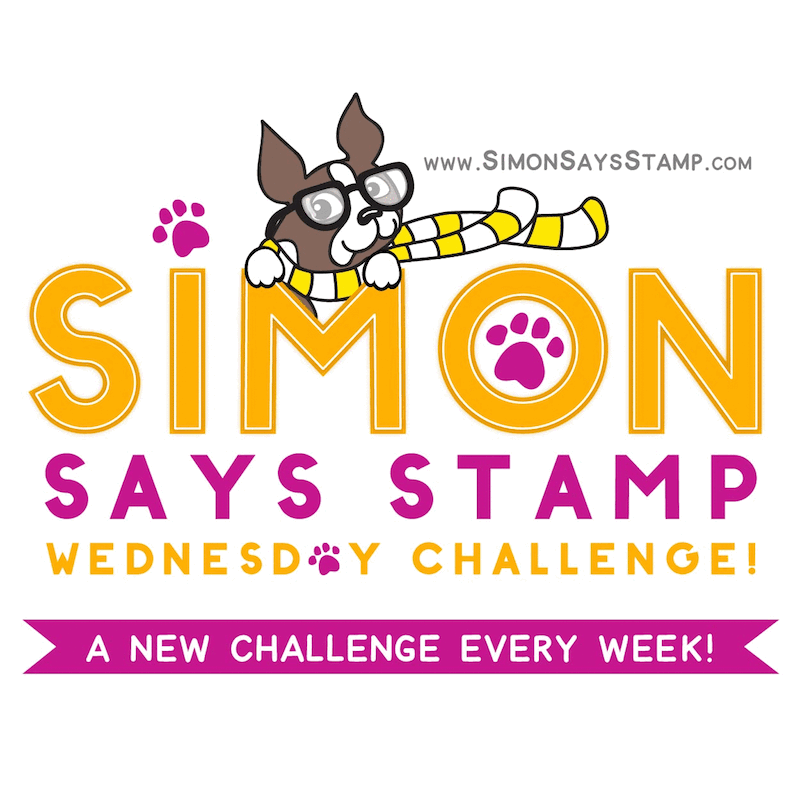 Threefer
This OLC was also fun and easy. The MFT polar bear was stamped and clear-embossed and his scarf and stocking cap were colored with my watercolor Ziggies in cool wintry colors. The BRRRR sediment is from the same MFT set. The pine bough was stamped in green and clear-embossed. Then I masked off the bear and 2/3rds of the card front and lightly brushed on blue ink for a sky background.
The snow? Well. I wasn't sure if this would work, but you know Pixie Spray glue that you use to tack your stencils down? With my masks in place, I lightly sprayed Pixie and then I sprinkled on some Martha Stewart coarse glitter and it stuck! It is so schparkly in real life, you can't believe it! It's not perfect; a few glits trickle off when it's handled, but not so many that you're annoyed. (I'll let you know if I come back and look at this again in a week and all the snow has fallen off!)
Challenges
~~~
RAK
One last thing. A lot of you may have seen this story on your local news, but in case you haven't: There is a sweet gentleman who is 104 years young and a Marine Corps veteran of World War II (not many of them left) who has put out a wish to receive Valentines. You can read the story here:
TIME article
. If you distrust links and you'd like to help make his wish come true, here is his address information:
Operation Valentine
ATTN: Hold for Maj Bill White, USMC (Ret)
The Oaks at Inglewood
6725 Inglewood Ave.
Stockton, CA 95207
I hope a lot of you will take a few minutes to send a card, even if it's not handmade. Thank you! And thanks to Sue Lelli for bringing this to my attention!💋
~~~
Enjoy your day!
No, seriously, enjoy!
LITS!*
As always, thank you for coming by to visit the Playhouse
and special thanks to you if you take the time to join as a follower! Please let me know you came by so I can be sure and return the flavor!
To open the pop-up comment box that let's you jump to the end w/o scrolling:
Click CTL + Home.
Click the Home tab under my blog banner which resets the post.
Click Page Down to reach the end of the post.
Click Comments and a pop-up box opens.
Click "Jump to Comment Form"
and wallah, no more car pool tunnel!
Mwah! (p.s.
If you ask me a question in your comment, please remember to leave me
your email address so I can respond.
Thank you!)