Hello Stamplings!
Lovely to see you! I hope you are keeping isolated and well!
The Mister and I are one big frayed nerve at this point. Thank goodness we don't live in an igloo and can retreat to separate rooms (or she sheds!) for brief time outs. Then we think of the gazillions of people worse off and we're grateful once again. In fact, we've started a list of the things we took for granite before Coronavirus 2020. It's embarrassingly long already!
Last month I was pickled tink to
win
the challenge at
Day of the Month Card Club
, so I'm delighted to be their Guest Designer for the current "World Rat Day" challenge. Instead of a rat, I used a cute old mouse stamp:
Or I should say an old stamp of a cute mouse. I think we should call her Edgy. She knows how we are all feeling. She knows she shouldn't be stuffing her face with comfort food, but, well, comfort food! And she still has plenty of room in her jumper. The background e/f represents the number of days of isolation. Edgy shows them proudly because she knows, even as the days wear on, that it's the only way to tackle Covid-19. And besides, how can she resist that fluffy white 7-minute frosting Hammy whipped up for her?!
Okay, not really. The numbers indicate ages because this is a birthday card for my friend's granddaughter. The little girl won't be able to have her planned party, so a few more cards than usual will help until she can celebrate. Kids of all ages are having a hard time understanding why they have to be isolated from their friends.
~~~
ETA
. Cornelia just sent me this comment. The video is hilarious.
"But I am a little worried - she may succumb to diabetes if she is going to eat like that - or she will get stuck in a manhole cover hole or some other small opening as we can see here on youtube

https://www.youtube.com/watch?v=SFKxhsIWu9E

."
~~~
Challenges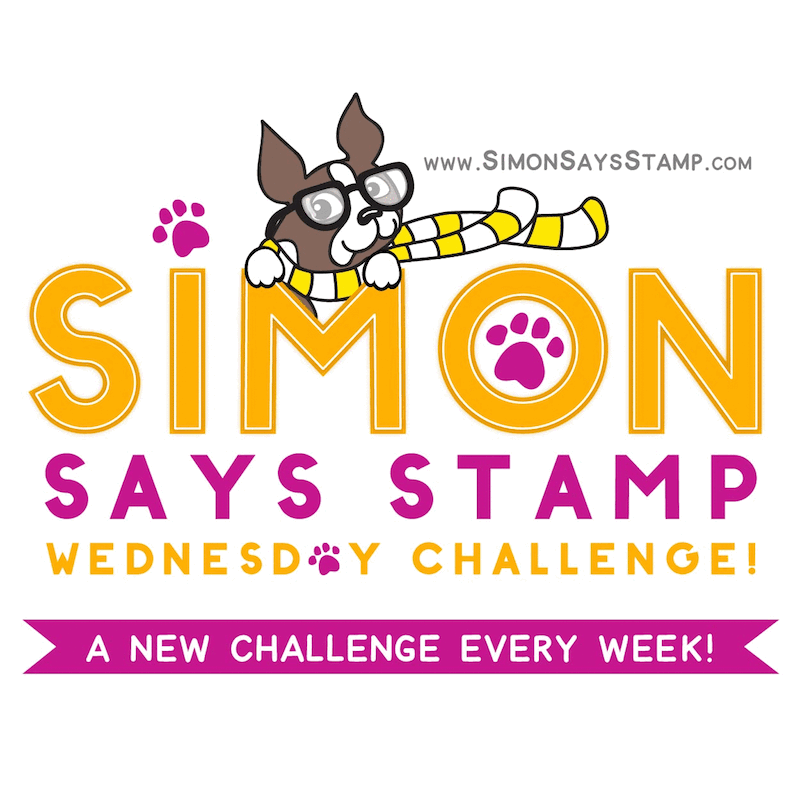 ~~~
Twofer
There is just something cheery about colorful plaid! It looks like there is no stamping on my card, but the lavender polkie-dotted bunny fur is a stamp that comes with a die in the PTI set called, "Polka Dot Parade #1." The pp is from Lawn Fawn, the scalloped and dotted stitched rectangle frame is from Mama Elephant, the scalloped circle is "Lacey Circles" from Nestabilities, and the many-layered sediment is from Creative Expressions.
The snippets of paper I used for the circle and bunny are a matte white with a gorgeous sheen. Here is a closeup. I just realized I meant to add a cotton ball to her tail. Oops. That's okay, it's easier to mail this way.
Miss A. Laneus
11. jimlynn

Two fun and fantastic cards! Great that the washi matched perfect too. And of course I'm interested in the draw! FUN! So sorry about your friend. Will get a card off to her. There are so many in the nursing homes now that can't have any visitors at all. Really sad for so many. Lynn
B. Verna: I also want to thank those of you who have sent my friend Verna a card! The nursing home is making her wait a week before opening them and she tells me she has a huge stack waiting for her! She asked me to thank all of you! 💛
C.
Some Coronavirus Advice
: And, finally, many thanks to my friend
Vicky
who shared with me some wonderful advice she got from her friend Tony in OZ:
Heard a Doctor on TV saying in this time of staying at home because of the Coronavirus, we should focus on inner peace
and we could all use more calm in our lives
. To achieve this, we should always
finish things we start.
I looked through my house to find things I'd started and hadn't
finished, so I finished off a bottle of Merlot, a bottle of Chardonnay,
a bodle of Baileys, a butle of wum, tha mainder of
Valiumun srciptuns, an a box a chocletz. Yu haf no idr how feckin fablus
I feel rite now. Sned this to all who need inner piss. An telum u luvum.
And two hash yer wands, stafe day avrybobby!!!
Take care, be safe, and enjoy your day!
No, seriously, enjoy!
LITS!*
To open the pop-up comment box that let's you jump to the end w/o scrolling:
Click CTL + Home.
Click the Home tab under my blog banner which resets the post.
Click Page Down to reach the end of the post.
Click Comments and a pop-up box opens.
Click "Jump to Comment Form"
and wallah, no more car pool tunnel!
Mwah! (p.s.
If you ask me a question in your comment, please remember to leave me
your email address so I can respond.
Thank you!)
Remember, if you create something with never-before-used-stuff (NBUS), you can share it at the
NBUS
challenge!