Hello Stamplings!
Happy weekend! Of course, if you're out playing because it is the weekend, I'll just say to you that I hope you had a great one! We are entertaining the grandtwins and granddogs this weekend and so far they are all getting acquainted with Nellie just fine. It's a houseful! A house full of joy since today is also the Mister's birthday!
I had some time to get a bit inky during the week and I went from a round daisy focus pocus to a round wreath focus pocus.
Onefer
This is pretty arty for me, eh? I made the background recently by scribbling shades of purple and blue Ziggies on my acrylic block, lightly spritzing the block, and then smooching my paper face down into the ink. It ended up being a meh (to me) background that I set aside to dry, wondering if I'd ever use it.
Then along comes the
CAS Stencil Challenge
where Julia wants us to use a baby wipe to remove ink through a stencil and suddenly this little background came to life. You just never know! To finish, I added two sticker butterflies and a simple sediment framed to match the card base. You can faintly see Hammy's effusive efforts with winking all over the flower.
Challenges
Twofer
This QACAS design consists of a black card panel run through a snowy e/f. Attached is a wreath from Concord & 9th's "Magnolia Wreath," simply and partially stamped in black on the white die cut. You can't tell, but it is stacked three-high. A simple circle sediment from GKW was added to the center. It's an unexpected color for a Christmas wreath card, but I like that about it.
Challenges
CAS(E) This Sketch: See below.
Simon Says Stamp: STAMPtember collaboration with Concord & 9th.
TIME OUT: Photo inspiration. I was going to add the sediment in a pop of green as seen in the photo, but in the end I liked the striking effect of just leaving it black and white.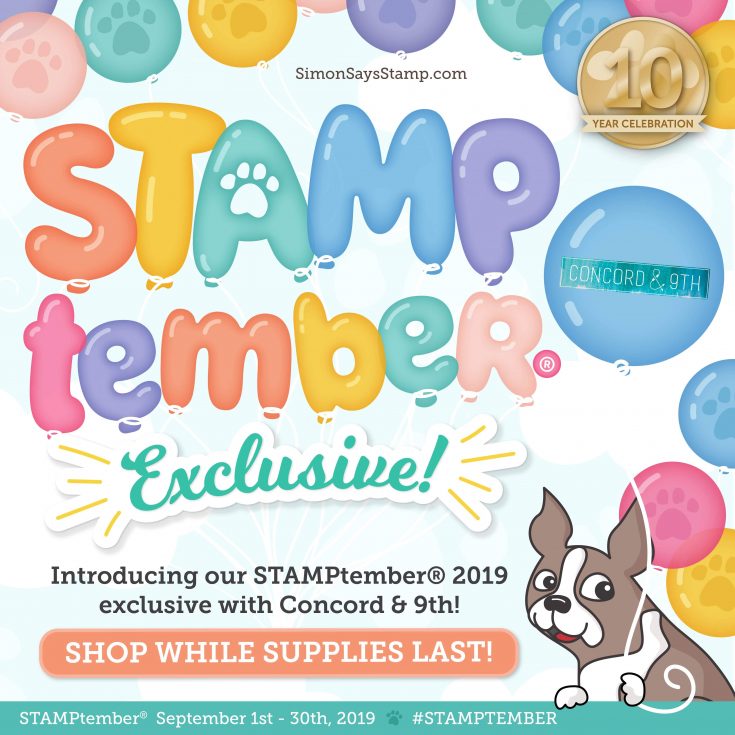 Nellie (9/19/19)
My photo table is the vantage point for this picture of Nellie wandering the yard and getting acquainted with her new home. The only difficulty we are having so far is calling her by the proper pronoun because our last two dogs were big Labrador Retrievers and both were male.
Mister: "Where is he?"
Me: "She."
Mister: "She. Where is she? Has he been out?" !!!
Repeated similarly several times a day. And when the Mister pets her, he says, "Hey, little Buddy." So if we don't get it straight, Nellie may become Buddy. But that's okay, we love him her either way!
~~~
Enjoy your day!
No, seriously, enjoy!
LITS!*
As always, thank you for coming by to visit the Playhouse
and special thanks to you if you take the time to join as a follower! Please let me know you came by so I can be sure and return the flavor!
To open the pop-up comment box that let's you jump to the end w/o scrolling:
Click CTL + Home.
Click the Home tab under my blog banner which resets the post.
Click Page Down to reach the end of the post.
Click Comments and a pop-up box opens.
Click "Jump to Comment Form"
and wallah, no more car pool tunnel!
Mwah! (p.s.
If you ask me a question in your comment, please remember to leave me
your email address so I can respond.
Thank you!)