Hello Stamplings!
Bless you, I hope you are already cool, sitting in front of a fan, or an air-conditioner, or an open refidgidater with a tall icy-cold beverage up to your lips. Holey moley, it is dangerously hot over half of the world.
I don't even want to tell you that we are heading to the beach to cool off, so I won't. I just hope you are safe and cool wherever you are and that you have taken precautions for your inks and your chocolates. Wait. I meant to say for your chocolates and your inks. I mean, I love inks, but please, let's be reasonable!
I've made you a freezing cold snowflake card.
Did it make you shiver just for a second?
No matter how I angled this card, I'm sorry that I could not capture for you the schparkly smooth white card I used. I've hoarded it had it in my stash for ages. If you could feel ice cream and not get a melty mess on your fingers, that's what this card would feel like. To my eyes the snowflake is a different tone, but I guess that's because of the black distorting it maybe? Anyway, it's cut from the same schparkly creamy white paper. The NBUS snowflake die is from MFT and the Let It Snow frame is from Poppystamps. The snowy e/f in the black night background is from Sizzix.
Challenges
Twofer
Well, that snow certainly melted fast! But I used cool subtile colors on this summertime card so as not to shock your system with a drastic temperature change. The ingredients of this card come to you almost entirely thanks to my sweet and talented friend
Sonja
. The die cuts were all gifts from her. Thank you, Sonja!
I "painted" my background by scribbling my Ziggy onto an acrylic block, spritzing it with water, and then picking up the color with a piece of acetate which I then smooched onto the card. Of course, I let a certain little furball schplash around on the block and run across the card willy-nilly. Now he's over on his bed sound asleep with cute little blue paws.
Likewise, the tulips were Ziggified by scribbling the colors onto my acrylic block and picking up the ink with my aqua brush.
Challenges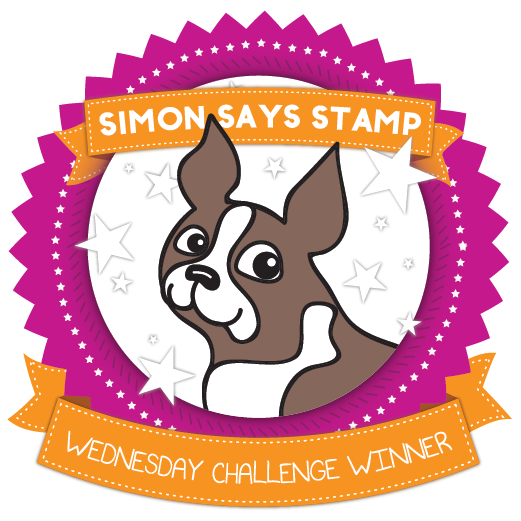 ~~~
Enjoy your day!
No, seriously, enjoy!
LITS!*
As always, thank you for coming by to visit the Playhouse
and special thanks to you if you take the time to join as a follower! Please let me know you came by so I can be sure and return the flavor!
To open the pop-up comment box that let's you jump to the end w/o scrolling:
Click CTL + Home.
Click the Home tab under my blog banner which resets the post.
Click Page Down to reach the end of the post.
Click Comments and a pop-up box opens.
Click "Jump to Comment Form"
and wallah, no more car pool tunnel!
Mwah! (p.s.
If you ask me a question in your comment, please remember to leave me
your email address so I can respond.
Thank you!)