Hello Stamplings,
Happy Spring!! It's always nice to have you visit! There is so much going on in the world that brings us down and makes us sad. That's why it's wonderful to have this community of artists which allows us to escape from all that for a bit of time every day. I believe every card we make and send helps counteract the darkness, so it's important that we carry on doing our little bit to spread joy and kindness!

In particular, this week I was on CAS Island preparing to play in some of the many fun challenges out there. I got so mojo-juiced I not only made a Twofer, I made a mirror Threefer, so let's get started.

Onefer
Here we have a card with a base embossed using a NBUS holly e/f from Park Lane. The front panel is a photo frame die from PTI. In the photo opening is a background I made by sponging Oxies in Christmas-y reds and greens. Using a NBUS Holly stencil from Echo Park, I created the ghosted holly pattern following Lolly's video instructions on the CAS Stencil blog. The sweet deer silhouette is a die from SSS and the sediment is from GKW.

I just love that sweet deer. To me he looks like he's thinking, "Mmm. Is that freshly planted flowers I smell?" He doesn't know they are just for looking at. Plus he gets confused when he sees people eating them in restaurants, but he gets in trouble when he does it.
Twofer
This card features watercoloring on vellum. I'm guessing the mum and sediment are both from Penny Black. They were first heat-embossed in platinum. The jewel-tone watercolors were DI inks applied with a barely damp waterbrush.
I painted the back of the vellum first, but it wasn't bold enough for the look I wanted so I turned it over and also painted the front. Maybe the vibrancy depends on the opacity of the vellum used. I'm very tickled that I can cross "use opacity in a sentence" off my bucket list. The vellum sheet was attached to the card base with two old-timey brads. I'm very tickled I kept a few of those. It doesn't take a lot to very tickle me.
Mirrored Threefer
This was a Ripley's Believe It or Not situation. The NBUS cone flower stamp and die from Joy! Crafts has been on and off my desk "in line for use" at least a half dozen times over the last six months. Apparently the universe knew they were sposed to wait for the current challenge at Sunday Stamps! You can see the sketch below. Spooky, right?! I've played in hunnerts of challenges over the years, but I don't think that's ever happened to me before! In addition to the cone flowers, I used a striped e/f for the white side and a tiny Hello label maker sediment from SSS.

The funny thing is, when I purchased these two cone flower items, I assumed the stamp and die were the same size, but when they came, I discovered the die is about a half inch smaller. That was a dilemnation for me and I stared at them with my head cocked. From the top shelf behind me, I could feel Hammy rolling his eyes. "Make two cards, _______," he said drolly, using an endearment he calls me when I'm being especially kanuckle-headed.
Challenges
Less is More: Take 3. (I used three techniques: one die-cut cone flower, one stamped sediment, one embossed background.)
Simon Says Stamp Monday: Miniature / tiny things. (Wee sediment.)
Sunday Stamps: Sketch. Congratulations on your 200th challenge! That's fantastic!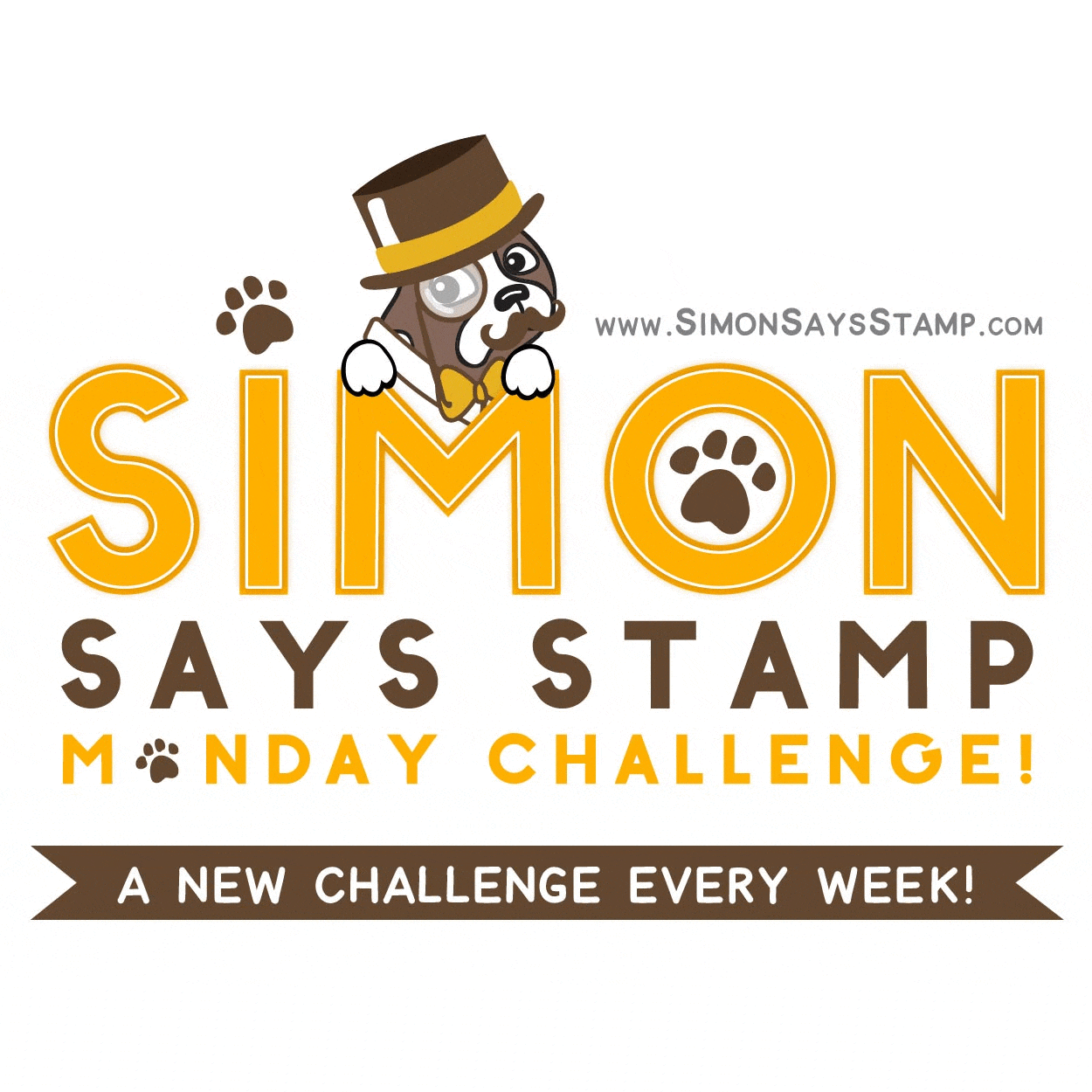 ~~~
Enjoy your day!
No, seriously, enjoy!
LITS!*
As always, thank you for coming by to visit the Playhouse
and special thanks to you if you take the time to join as a follower! Please let me know you came by so I can be sure and return the flavor!
Don't forget you've got a coupla more days to play with your balloons and enter
Twofer
! Please don't be deterred by the clever unconventional entries we've had. You can always use your balloons (and I know you've got 'em) in traditional ways! I'd love to see what you can do!
To open the pop-up comment box that let's you jump to the end w/o scrolling:
Click CTL + Home.
Click the Home tab under my blog banner which resets the post.
Click Page Down to reach the end of the post.
Click Comments and a pop-up box opens.
Click "Jump to Comment Form"
and wallah, no more car pool tunnel!
Mwah! (p.s.
If you ask me a question in your comment, please remember to leave me
your email address so I can respond.
Thank you!)