Hello Stamplings!
On the Days of the Year calendar, today we are celebrating "Homemade Bread Day," "Baklava Day," and because then we need it, "Take a Hike Day!" Since we can't hike here atm because of the smoke, we'll just call it, "International Celebrate Carbs Day!"
But more important than any of those, today is our favorite son's birthday! Happy Birthday, Dan, and many, many more! And because I didn't acknowledge my favorite daughter-in-law's birthday on October 1, I'd like to do that now, too. Happy Birthday, Rachel, and many, many more! Your birthdays are even more cherished now!
Today is also reminder day over on the
Twofer Card Challenge
blog, so here you go with two more sets of designs to inspire you to play. In each case, I made one conventional wreath design and then I used my wreath in an unconventional way on my second design:
For these cards, the wreath I used for both designs is "Cascadia Wreath" by Memory Box. In case you think the camera played tricks, the colors of the card bases are honestly white and cream.
I thought we could all use our vivid imaginations and pretend those flowers are poinsettias, so my first design is a Christmas card, kept uber simple with white-one-white, pops of red, and a schplash of silver. The sediment is from The Ton. I'm entering this card in the
TIME OUT
photo inspiration challenge: red, white, gray.
~~~
I'm pretty chuffed with how this turned out. It was one of those one-thing-leads-to-another card designs. I ended up using a perfume bottle clear stamp from The Alley Way Stamps for the pretty Ziggified vase. I've had it at least four years, but it was still NBUS cuz I've just never had occasion to make a card with a large perfume bottle. As I was looking through my schtuff, I thought the bottom of the perfume bottle would work as a vase, so I put on my surgical gown and operated on it to remove the atomizer dealiebob.
The card base is die-cut from an MFT stitched rectangle out of beautiful schparkle paper from SU that was a gift from my friend Brenda. The NBUS sediment from Kaiser Craft is heat-embossed in silver and in Hammy's absence, I winked the vase all by myselves. Sorry I forgot to take a photo closeup to show you all the shimmer and sheen. I also forgot to add a shadow to ground my vase. Okay, let's just move on.
Challenges
~~~
For this Twofer set, I leaned towards rustic and used a wreath from Papertrey Ink called, "Cutaway Tags: Summer."
Making another Christmas card for the pile, I die-cut the wreath from a snippet of gold-embossed Bazzill paper and added another strip behind the wreath. Then I covered the sediment strip part of the die with paper that matched the card base, onto which I heat-embossed the sediment from PTI in gold. To finish it off, I flung gold schplatters all over it with Wild Abandon.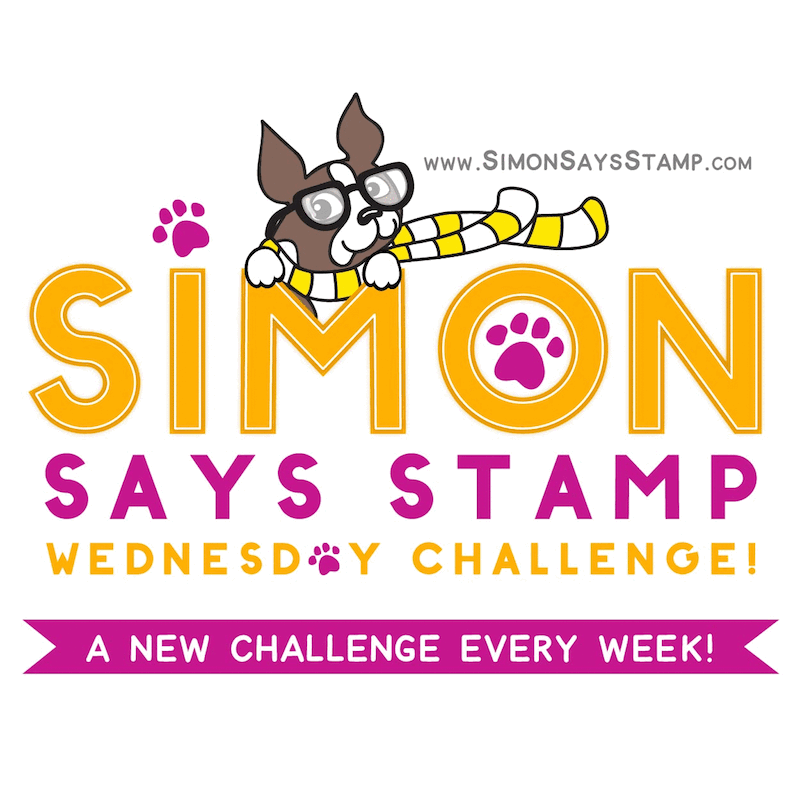 ~~~
For my second design, I deconstructed the wreath, using the center sediment strip and some of the flowers, which I colored with my Zigs and winked. The sediment is NBUS from the same set. I found the cool woodgrained background paper in the same stash where I found the paper I used on my first set of Twofer wreaths last week. It feels great to have used these cool patterned papers after years stuck in a drawer!
~~~
The Twofer Card Challenge is open until November 24th,
so you still have time to put your thinking caps on and play along! I have to say, once I got into it, it was really fun thinking of two ways to use a wreath that weren't the same underlying design.
It's all win-win for you as you end up with two cards for your stash and it's all win-win for us as we benefit from how you inspire us!
~~~
Enjoy your day!
No, seriously, enjoy!
LITS!*
As always, thank you for coming by to visit the Playhouse
and special thanks to you if you take the time to join as a follower! Please let me know you came by so I can be sure and return the flavor!
To open the pop-up comment box that let's you jump to the end w/o scrolling:
Click CTL + Home.
Click the Home tab under my blog banner which resets the post.
Click Page Down to reach the end of the post.
Click Comments and a pop-up box opens.
Click "Jump to Comment Form"
and wallah, no more car pool tunnel!
Mwah! (p.s.
If you ask me a question in your comment, please remember to leave me
your email address so I can respond.
Thank you!)