Hello Stamplings!
In the middle of winter with bone-deep cold, rain, sleet, snow, and gray skies for a lot of people on this side of the world, I just love seeing all the hearts and flowers beginning to pop up all over Blogland. It's very uplifting at a time when we need it!

So thank you St. Valentine for being the next holiday to distract us with all kinds of heart art! Here's my first of 2019:
The star of this QACAS Valentine design is a relatively new NBUS from Poppystamps (Embossed Love). I usually like to keep my stamps and dies for two or three years in order for them to become atmospherically tolerant of the Playhouse thermodynamic conditions before I subject their tender surfaces and edges to abuse. Wait. What? It sounds good though, right? You may borrow that as your own excuse for having lots of NBUS (never-before-used-schtuff).
But I digest. The beautiful paper is another
vo
piece from my stash which I'm determined to stop hoarding. The little heart was cut from red fun foam and glossified.
Challenges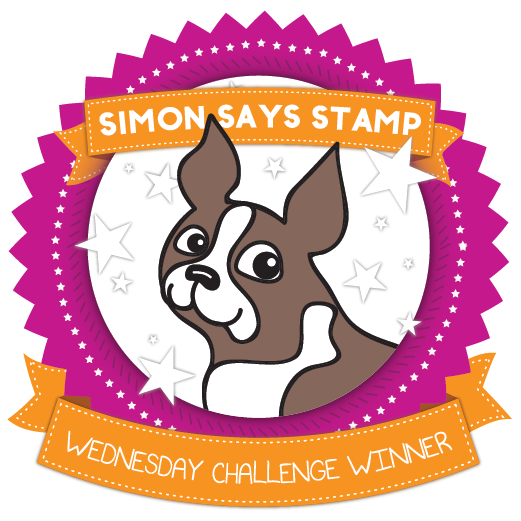 ~~~
Another QACAS design, this time using a really old (but still fun) stamp and die set from PTI called Road Trip. Obviously the rather well-built and possibly scary person I put behind the wheel has gone over the hill and it's all downhill from here! I stenciled the cobblestone road with a TH stencil and Hammy did his special winking trick all over the Bug.
Challenges
~~~
ETA: Hammy picked a name out of the hat and the winner of the butterfly die from this post is JoAnn. Congratulations, JoAnn!

JoAnn

said...
Your cards are beautiful. Love the butterflies on both cards. And why not have a butterfly on a Christmas card, it looks lovely with the silver embossed tree.
Thanks for sharing about the thyroid.
Have a wonderful day. Hugs, JoAnn
Enjoy your day!
Enjoy the ride!
No, seriously, enjoy!
LITS!*
As always, thank you for coming by to visit the Playhouse
and special thanks to you if you take the time to join as a follower! Please let me know you came by so I can be sure and return the flavor!
To open the pop-up comment box that let's you jump to the end w/o scrolling:
Click CTL + Home.
Click the Home tab under my blog banner which resets the post.
Click Page Down to reach the end of the post.
Click Comments and a pop-up box opens.
Click "Jump to Comment Form"
and wallah, no more car pool tunnel!
Mwah! (p.s.
If you ask me a question in your comment, please remember to leave me
your email address so I can respond.
Thank you!)