Hello Stamplings!
How's your week going? I know I've been posting a lot this past week, but because of a busy first half of the month, everything card-related got pushed and now I'm up against some challenges closing so I've got a Fourfer for you. Ah, that was sweet of you not to groan.
I promise I'll be quick, but I'll wait a sec if you want to get a drink and put that lumbar pillow behind your back. Doe a deer, a female deer, re, a drop of golden sun, mi, a name ... oh, hi. I was just humming while I waited for you.
Here we go!
Onefer
I've used NBUS butterflies from Memory Box cut from a watercolor background for this design. The dies are called "Drifting Side Butterfly" and "Flitter Side Butterfly."
Challenges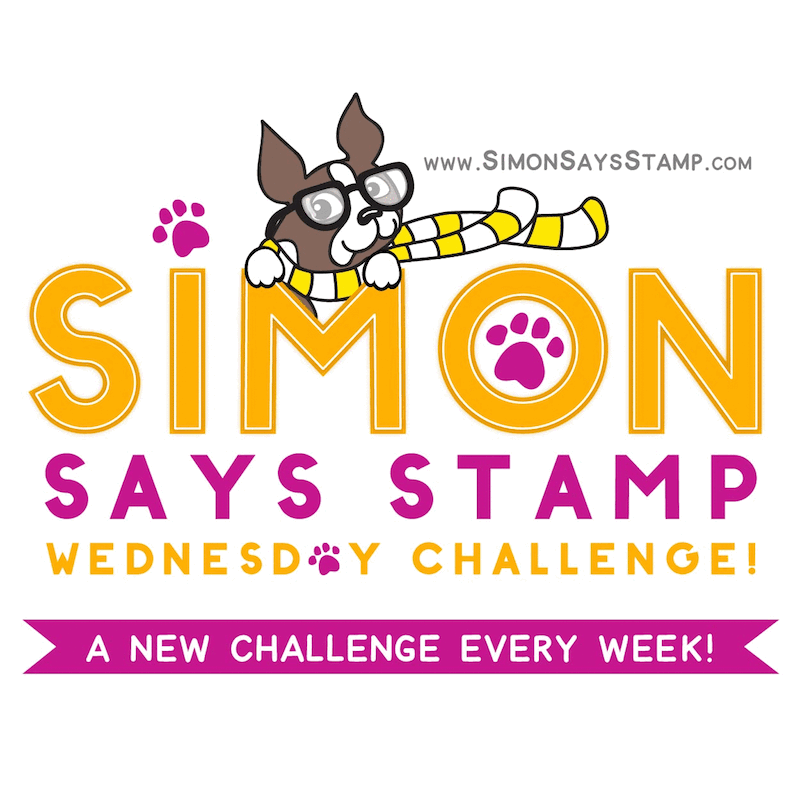 Twofer
I liked it so much, I made a few more of these colorful butterfly designs. For this one, I added gems and a birthday sediment.
Challenges
Threefer
I made this simple design using a plaid stencil and a bottle of NBUS Wendy Vecchi Pearl Mica Spray. I am intrigued that the Pearl spray appears silver when sprayed on the black. The stencil is "Tim Holtz Layering Stencil Plaid THS097."


Challenges
By the way, the shimmer is amazing in reality:
After spraying the stencil inside a big box, I quickly flipped it over onto another piece of black card and was able to get another shimmery panel. It's lighter, of course, but still visible enough to grow up to be a card some day.
I have to say that was fun. I've had this spray for ages and never used it. I have occasionally tried other sprays in the past without much success. I really appreciate the CAS stable of challenges for inspiring me to step outside - literally - and try new things!
Here's a tip I saw on a blog (I'm sorry I didn't note which one): When you spray, don't point the spray at the paper. Lay a big box on its side and place the paper flat on the side that is now the floor of the box. Then, instead of pointing your nozzle at the paper, point it at the back of the box and you'll get lovely coverage just from the falling mist and there won't be much piddling. It worked for me. (I hope it wasn't just a spray manufacturer telling us to do it this way! 😏)
Fourfer
This is another card panel I made at the 2019
ESCR
. The card is glossy black and the embossed snowflakes were made by pushing a glittery paste through a snowflake stencil. Again, very schparkly in real life between the glossy card and the glitter in the paste. I used Nancy's technique where you cut strips out of the image panel for a little extra interest. I think the sediment is from PTI?
Challenges
~~~
Thank you for making it to the end! I try to only do two cards per post because I know it's hard to remember them by the time you get to the end.
Oh, and before you ask why I didn't mention Hammy's help with these, he is away at the annual hamster convention in Bellingham WA in honor of
Mr. Saddlebags
.
Enjoy your day!
No, seriously, enjoy!
LITS!*
As always, thank you for coming by to visit the Playhouse
and special thanks to you if you take the time to join as a follower! Please let me know you came by so I can be sure and return the flavor!
To open the pop-up comment box that let's you jump to the end w/o scrolling:
Click CTL + Home.
Click the Home tab under my blog banner which resets the post.
Click Page Down to reach the end of the post.
Click Comments and a pop-up box opens.
Click "Jump to Comment Form"
and wallah, no more car pool tunnel!
Mwah! (p.s.
If you ask me a question in your comment, please remember to leave me
your email address so I can respond.
Thank you!)