Happy
Whoosh
Day Friday!
When I was growing up in the quaint middle of the last century, we had Wash Day Monday. I think Tuesday was ironing, but I've forgotten what all the other days were for and all that was chucked out the window by the time I got married and worked inside and outside the home, doing wash whenever I could squeeze it in.
Now I sit here and make up silly days for
whooshing
. That's the fun part of paying your dues and getting to live long enough to become a Bona Fide Geezer! (It's like a BFF only more "experienced" and with less filters!) I don't like how fast this year is flying by, but I have to say
whooshing
is way more fun than washing!
But funnest of all is putting time and chores off to the side and getting jiggy with water and color! For your glistening pleasure today, I have prepared a card ala
Make it Monday's
challenge to use watercolors with die-cut stencils. You can find an excellent video by Lexi via the link. Here is my make:
I have to tell you, this sweet card makes me smile. I love that little boat bobbing along on his little bit of wave. I'm also smiling because Hammy quickly came 'round and was a big help picking out the loopy sediment that nestled so perfectly in the sand hill. I'm happy that we're good pals again already, phew!
To make my card, I sued Papertrey Ink ~ no, that wouldn't be nice ~ that is to say, I used Papertrey Ink's "Sentiment Splits Curve Horizontal Die" which is a NBUS die that only arrived last week while we were away. It looks like this: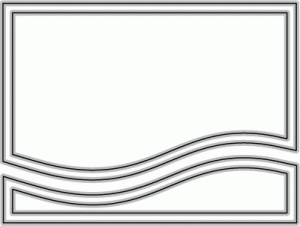 I cut the die from a sticker adhesive sheet and applied it to my watercolor paper. I made sure it was well stuck so my watercolor wash wouldn't seep through (I hoped). I knew I wanted to do a simple wash for the sand and a sunset/sunrise wash for the sky. Good, okay. But while sky and sand are nice, a bit of ocean makes the beach scene more beachykeen, so I die-cut another piece and snipped a portion of the curve to apply as a wave separator. I think you can see what I mean, yes?
Then I scribbled my SAI paint markers onto my acrylic block and using my water brush, I simply did the color washes. I was trying to emu late the sunrise colors from one of our vacation photos only I made my colors softer than the real thing.
After I was finished painting, I removed the adhesive die cut, but I have to tell you, I had a devil of a time getting it off. I guess all that water made the paper separate. The top layer peeled off, but the bottom layer had to be rubbed off in tiny pieces to keep the card itself from wrinkling. I'm not sure if it is the brand I used, so I'll try a different one next time. The little boat is from The Alley Way Stamps set "Kid 'n Caboodle" and the sediment is from the PTI "Make a Wish" set.
~~~

Today's Twofer ~ Tag You're It Reminder

Apparently when I told you on Tuesday that my twofers would be Christmassy from now, I was telling you a big fat lie because here's my twofer which is definitely NOT a Chrissie card!
In fact, it's a tag using the same watercolor technique and wee boat. The bottom layer is a seashore pp from my stash. Both tags were cut using the Die-Namics "Stitched Tags" from MFT. The NBUS sediment is from Technique Tuesday "R&R." The beautiful twill ribbon is from SU in blushing bride, which is pink IRL.
My tag is a reminder to you that today starts the second week of the current Tag You're It Challenge where I have the pleasure of guest designing. Here is another look at the delightful tag that designer Marybeth Lopez of Marybeth's Time for Paper created for your inspiration:
I do hope you can play along!!
~~~
Challenges
~~~
As always, thank you for your visit to the Playhouse and special thanks to you if you take the time to join as a follower! Please let me know you came by, so I can be sure and return the flavor!
*Life is too short!
To open the pop-up comment box that let's you jump to the end w/o scrolling:
Click CTL + Home.
Click the Home tab under my blog banner which resets the post.
Click Page Down to reach the end of the post.
Click Comments and the pop-up box opens.
Click Jump to Comment Form; no more car pool tunnel!
Mwah!
If you ask me a question in your comment, please remember to leave
me your email address so I can respond. Thank you!