Happy Tuesday Everyone!
Today it's snowin' all up in my corner of Blogland! I'll get right to it before it melts!
I present my card:
Do you like my polka dotty penguin all winked with black Stella, which you can only see IRL? He came from a NBUS Hero Arts set (see below). My papers are PTI white and black. The sediment is heat embossed in black. It is from PTI's "Think Big Favorites #9 Mini." Here is how the sediment set looks when it comes from the company: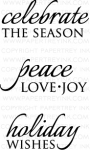 You've seen me repurpose a sediment stamp before by cutting the words apart and rearranging them to fit my design, which I needed to do with "celebrate the season" on this card. I love the font used in these stamps and enjoy using them, so I made it work. Don't be afraid.
A lot of you are here to hop the
Papertrey Ink November 2014 Blog Hop
monthly challenge, where the theme this month is "SNOW." If you need to just leave a comment and hop along, I understand. Thank you for your visit!
DJKASE
For those of you who have another few minutes, this is Part B of my stamp repurposing. Like Sunday's card, the idea for this card also came about because of the
Craft Stamper's
challenge this month to use non-holiday stamps for a holiday card.
One of the very talented
Design Team
members is my friend
Chrissie
and Chrissie made this breathtaking card:
Chrissie's card
Isn't it extraordinary? Just in overall design, it's magnificent, but what makes it even more extraordinary is that Chrissie's beautifully stylized bird is made from a
leaf
! Wait. What? Yes, no, you heard me right!
So I had the nerve to DJKASE Chrissie! My creation is not as innovative as Chrissie's in that I only transformed one bird into another bird, but the inspiration started with her. Here is how the bird looked before I turned him into a penguin:
Hero Arts CL337
Once again I performed a bit of surgery, but this time it was to my paper and not my stamp. I simply fussy-cut the doodled bird, removed his tail and headdress and then added a penguin beak and penguin feet. Not a drastic change, but still a lesson in how you can "find" stamps you didn't even know you had in your stash. Like a penguin. A little imagination and shazambam!

Thank you, Chrissie, for the inspiration!
~~~
There smores. As it happens, Mr. Doodled Bird had me and the hamster giggling all over ourselves, so I made another snowy Christmas card using the stamp just as the artist created it. For this card, he became a
Christmas
Doodled Bird:
Hammy was beside himself over the sparkly red tail feathers. He thinks it's a riot that it looks like the silly bird is standing on top of a roaring campfire! But bird doesn't care, he has a big present to open! His present is made with PTI's "Make a Wish" die. Those snowflakes are white metal brads from SU onto which I glued minischool stars.
The snow on my cards today was created with a NBUS jar of
"Aleene's snow."
It was fun!
Challenges
In addition to the PTI hop, I am entering:
~~~
Enjoy your day! No, seriously, enjoy. LITS!*


And, as always, thank you for coming by to visit the Playhouse and special thanks to you if you take the time to leave a comment and/or join as a follower! Please let me know you came by, so I can be sure and return the flavor!
*Life Is Too Short!
To open the pop-up comment box that let's you jump to the end w/o scrolling:
Click CTL + Home.
Click the Home tab under my blog banner which resets the post.
Click Page Down to reach the end of the post.
Click Comments and the pop-up box opens.
Click Jump to Comment Form; no more car pool tunnel!
Mwah!