Hello Stampers!
Two of my dear bloggy friends are having birthdays today, so I would like to show them your card! Wait. No. I would like to show you their cards.

ARDYTH


In Alpha Betty order, first up is Blogland's outstanding graphic card artist, Ardyth Percy-Robb. You can link to her wonderful
Maskerade
blog for amazing inspiration. I did a birthday
card
surprise hop for Ardyth's birthday last year, and I honored her with a
DJKASE
on Valentine's Day this year, so here is my latest card for her:
I know it is very similar to last year's birthday card and it is also like a card I once made using my
Spirograph
set, but Ardyth loves this style of card and I love the opportunity to make one for her.
When I see this card I think "ferris wheel," which is a little bit close to what I originally had in mind because of the fact ferris wheel rides go up in the air. You see, originally I was thinking of making a card using kites or hot air balloons, but then I saw this image in my container which houses flying objects:
It turns out it is from this
Papertrey Ink
set called "Baby Button Bits."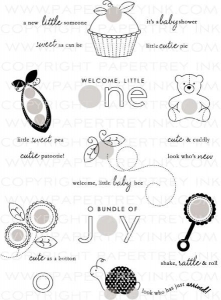 Hey, don't look at me! You know I separate my stamp sets and at some point I forgot this little booger was sposed to be a pea pod to hold three peas signalfying two parents and a new baby. I mean, it looked like a blimp to me (even though I did wonder why a blimp would have vines around the fin tail?!) Whatever, I filed it with my flying things. She says, shrugging her shoulders.
ANYway, I used it to make an Ardythesque graphic rainbow-colored ferris-wheel birthday card! I thought the addition of a sediment would ruin the design, so I left it alone.
Happy Birthday, Ardy, and many, many more!!
~~~~~~~
Over at
Shopping Our Stash #153
we are to stamp our own background and I sure did that so I'm linking my card in this fun challenge!
MARY
My second bloggy friend celebrating a birthday today is Mary of the bright and beautiful
Carolina Cards by Mary H
. Mary's special occasion today gives me the opportunity to copyliment her and make her a DJKASE of one of her cards as a tribute and a thank you to her for following me and supporting me!
Darnell's card
(I don't know why the "happy" looks kinda green. It's colored with a pretty yellow Wink of Stella pen.)
Actually, the main focus pocus of Mary's card came about because of a RAK that I received from her a while back. She very kindly gifted me with some incredible images from
Nicecrane Designs
, so I used one of the images to make her card!
If you know Mary, or you visit her blog, you will see she makes stunning cards with her images ornately framed and often flourished. I made the mistake of matting the print image for Mary's card in a plain rectangle mat before I thought to find a specific card of Mary's to DJKASE. Oopsles! (You might say I sorta got the card in front of the horse!) So I had to look a ways back on Mary's blog to find a card she had made with a simple matting. You can find it
here
.
Mary's card
Mary, I wish you a Happy Birthday and many, many more!! Thank you for your friendship, for following me, and for your encouraging comments on my posts! I hope you like my DJKASE birthday card!
~~~~~~~
I used snippets for my matting so I'm popping over to join the girls at
Pixie's Snippets Playground
. I didn't use an impressive amount of snippets, but the girls at Pixie's know Mary and I know they would like to know or be reminded that her birthday is today!
~~~
My sister, Diana, is arriving tomorrow for a few days! I have a scheduled post on Sunday, so you'll see me then, but just so you know I may not be able to visit with you until sometime next week.
Enjoy your day! No, seriously, enjoy. LITS!*
As always, thank you for coming by to visit the Playhouse and special thanks to you if you take the time to leave a comment and/or join as a follower! Please let me know you came by, so I can be sure and return the flavor!
*Life Is Too Short!
To open the pop-up comment box that let's you jump to the end w/o scrolling:
Click CTL + Home.
Click the Home tab under my blog banner which resets the post.
Click Page Down to reach the end of the post.
Click Comments and the pop-up box opens.
Click Jump to Comment Form; no more car pool tunnel!
Mwah!