Greetings! It's all about fall / autumn here today as we welcome November 2015 into the world!
I won a recent challenge at
The Challenge
and I'm honored that the prize is Guest Designing for this week's challenge!
I stitched the paper layers with Lil' Inker's stitched rectangle and circle dies. The lovely plaid DSP from GKW is so thin it looks like real fabric in the photo graph. The thinness is emphasized by the fact that the stripes line up. In hindsight, I've got a big hindie. Wait. What? I meant to say, I should have attached my DSP to a piece of cardstock to give it a little heft before attaching it to the pumpkin pie panel. Note to self.
The three little tiny flags are made out of orange vellum using the tiniest die in my NBUS Avery Elle Dotted Die die. The sediment is from PTI's Scent-imentals set.
I hope you will join in the fun sketch challenge this week at
The Challenge
!
There is no limit to the types of cards you can make with this sketch!
Today's Twofer;
Continuing with the fall / autumn season, this yum-yums card is made with a fine linen card base from PTI and a mat of always artichoke from SU. The plaid DSP is also from PTI. I slit a split in the plaid panel using a border die from Lil' Inker. I intended to have a wider opening in my paper "river" of added interest, but when I was playing around with it, Hammy ran across the layout and pushed the two sections together. I liked it that way so I left it.
Nextly, I adorned the split with leaf buttons after removing their shanks. (It's a grueling surgery, but really, we must cut back on the button population, so it had to be done.) The sweet little tag was cut using my NBUS "Stitched Main Street Tags" from Poppystamps. The sediment is from Creative Time's "Teeny Tag Greetings."
Challenges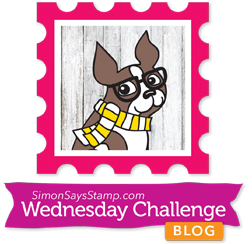 I hope you've enjoyed today's fall/autumn cards. I had the chance to do some blog-hopping yesterday and I was delighted to see fall challenges and so many beautiful warm fall cards! This time of year ~ and Thanksgiving in America ~ are often overlooked between Halloween and Christmas. Don't get me wrong, I'll be doing Christmas this month, too, because heck, there's not much time, but it's nice not to ignore fall and Thanksgiving in the all together.
FYI: I want to let you know that my friend Susan Raihala always gives Thanksgiving the attention it deserves with her wonderful Thanksgiving Crusade Challenge tab at her
Simplicity
blog. If you do make a Thanksgiving card, I hope you will link it up there! And for those of you who love one-layer cards, her
One-Layer Simplicity Challenge
blog for November has a theme of "thank you/gratitude" cards for any purpose or occasion, not just Thanksgiving!
~~~
I will leave you with this great photo!
Adam and Henry Halloween 2015
As always, thank you for coming by to visit the Playhouse and special thanks to you if you take the time to join as a follower!
Please let me know you came by, so I can be sure and return the flavor!
*Life is too short!
Click CTL + Home.
Click the Home tab under my blog banner which resets the post.
Click Page Down to reach the end of the post.
Click Comments and the pop-up box opens.
Click Jump to Comment Form; no more car pool tunnel!
Mwah!
If you ask me a question in your comment, please remember to leave
me your email address so I can respond. Thank you!